Our Team
Karthik Krishna MCSP, (Karthikeyan Krishnaswamy)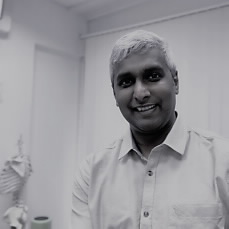 A highly skilled and revered extended scope practitioner physiotherapist (ESP) - Karthik works with some of London's leading and most prestigious sports physicians, orthopaedic surgeons and rheumatologists.
"…Karthik analysed and reviewed the problem at every visit and adapted the treatment according to feedback. The result is that I am pain free and able to progress… Many thanks."
Jean H.
Karthik's patients benefit from fast recoveries and subsequent optimal performance levels - especially with respect to sports men and women. He maintains high levels of respected professionalism by strategic ongoing training programmes, focusing on evidence based clinical practice and resulting effectiveness.
With many years' experience working with the Ministry of Defence, NHS and in private practice, he is currently working part-time at Ealing Physio as an extended scope practitioner physiotherapist (ESP). His highly respected skills include performing clinical assessments, triage and treatment service in addition to general physiotherapy. He also enhances the practice' skills by performing ultrasound guided peripheral joint (shoulders, hips, knees, ankle etc) and soft tissue injections.
"Helping and supporting people out of pain and into recovery, are the fundamentals of my lifelong commitment as a physiotherapist."
Karthik Krishna
Karthik has a successful work/life balance between professional commitments and time with his family. He also enjoys playing cricket.
Credentialed McKenzie practitioner
Qualified acupuncturist and a peripheral joint and soft tissue injection therapist.
Completed a MSc Physiotherapy from Edinburgh in 2000 - Specialising in musculoskeletal disorders
Qualified as a Physiotherapist in 1998 - Established a career in sports medicine
Karthikeyan has co-authored a research article that is published in international medical journal. Click HERE to view the article!
Poland's Syndrome Associated with Thoracic Spine Soliosis - A Case Report
Click here to view the article.
Bakers Cyst Occurrence Following Arthroscopic Medial Meniscal Debridement in aRecreational Athlete: Some Potential Indications for Ultrasound Guided Needle Aspiration
Click here to view the article.
Serial Intrarticular Low Dose Corticosteroid Injections for Frozen Shoulder Pain Management: A Case Report
Click here to view the article.
Lois Da Costa MCSP

Based upon her studies and absolute motivation to help those in pain or discomfort, Lois undertook several research projects for the management of running injuries, orthopaedic medicine techniques for the assessment and treatment of both back and limb conditions, pregnancy related problems and geriatric rehabilitation. Lois also practices acupuncture.
"You are the first health professional to understand the exact symptoms and pain that I have been experiencing over the last ten years. After just two sessions I am in less pain and have started to take control of my condition."
Lisa, Ealing (Aged 34)
Previous experience includes working in Canary Wharf, where she promoted the importance of good postural control for treatment and provision of postural dysfunctions.
"Being a physiotherapist inspires me to help others. A career highlight has to be when I helped a 78 year old lady who had not been able to walk for two months due to swelling. Six months later and after an intensive course of treatment for her pelvic fracture and osteoporosis, she was able to carry out her daily tasks with renewed confidence and independence."
Lois Da Costa
Fluent in four languages:
English
Hindi
Konkani
Marathi
In order to enjoy her own quality of life, Lois regularly works out and maintains a healthy lifestyle and regime.
Member of the Acupuncture Association of Physiotherapists
Master's Degree in Musculoskeletal Physiotherapy (Research) from Manchester Metropolitan University in 2011
India - Worked in private practice in orthopaedic clinic under the guidance of trauma and orthopedic surgeons for 2 years
Awarded first place in the All India Student's conference for 'Systematic review of Biomechanical analysis of Iliotibial Band syndrome'
Bachelor's Degree in Physiotherapy (India) in 2008
Grzegorz (Greg) Nowak MCSP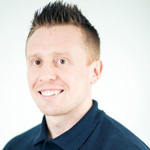 Grzegorz (Greg) is a highly respected and experienced physiotherapist, who combines various techniques to help patients overcome pain and dysfunction. His treatments ensure a fast and effective, long-term recovery from injury.
"I would highly recommend him to anyone - He is always calm and understanding. Greg has recommended exercises and helpful tips on how I should adapt my lifestyle patterns to help me going forward. Greg is loyal to his patients, he is one of the most hardworking and meticulous individuals I have met…"
Helena S. (Consultant) London, May 2015
He has worked with professional footballers and has a strategic interest in the development of muscle strength and endurance. As a keen sportsman, he strives to obtain better performance and general fitness, in order to support athletes or those genuinely interested in sport or body building.
Fluent in three languages:
Courses:
Mulligan mobilisation course - 2015
McKenzie course - 2015
Dry needling and acupuncture course - 2014
MSc in Physiotherapy (Rzeszow, Poland) - 2007
Ioannis (Yiannis) Agathokleous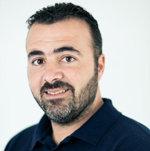 Yiannis Agathokleous joined the practice as an experienced physiotherapist. His valuable expertise as a sports specialist (supporting the Cyprus Football Association as head physiotherapist for U19 and U21) makes him a crucial member of the Ealing Physio team.
"Shortly after treating two skilled players in the National Football Team of Cyprus (U19), I felt very proud when they scored. Their goals determined the winning results."
Yiannis Agathokleous - Head Physiotherapist
Experience includes:
Treating athletes from various disciplines (including cyclists, tennis and football players at national and international level)
With many years' experience as a physiotherapist, he also uses electrotherapy, manual therapy and rehabilitation therapy based upon exercise and movement
Educates his patients to avoid future injuries
Volunteer at the Cyprus Charity Marathon
"During the course of a European cycling competition, I had an accident that caused me a serious knee injury and an operation was necessary. Following the operation I had a series of physiotherapy treatments with Ioannis. He not only helped me to recover fully and swiftly from the injury but his treatments enabled me to take part again in international cycling competitions and win prizes for my top performances."
Vasillis Adamou - Gold medallist, Games of the Small States of Europe (2011)
Yiannis speaks three languages. This ensures precise understanding of the issues whilst able to explain the prognosis and treatment without a requirement for translation:
Courses:
Bowen Technique course - 2013
Mulligan Mobilisation course - 2010
Kinesiology taping course - 2008
McKenzie course - 2007
BSc in Physiotherapy (Greece) - 2005
MotimaSchule fur Physiotherapie Institute, Germany - 2000
As an outstanding specialist, his expertise helps his patients feel assured of a fast and effective recovery.
To request an appointment click here.
For more information on the conditions we treat and services we offer, or to Book an appointment online please call 020 8847 1887 or email us at reception@ealingphysio.co.uk